<!-//////////////////////////////////////////////////////////////////////////////////////////////////////////////////////////////////////////////////////////////////////////////////////////////////////////////////////////////////////////////////////////////////////////////////-->
Recordings
Plethiad(2022)
The new duo album with Clovis Phillips combines Celtic harp with jazz guitar for an unforgettable string blend. It includes original arrangements of Welsh, Irish and Scottish tunes, along with new compositions and jazzier numbers.
Track Listing

Clychau Caerdydd
Metropolis
Emma's Waltz
Pigtown Fling
New Blues
Mill House
Y Fro Golier
Junk Man
Hurdle Race
My Little Suede Shoes
Snow Chains
Acrobat
Leaving Friday Harbour
---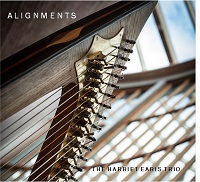 Alignments
The new trio album with Sam Christie on drums and Andy "Wal" Coughlan on bass (May 2016). The album aligns harp music with jazz backing for an unforgettable fusion. The CD includes guest performances by clarinetist Wyn Lodwick and Welsh poet Einir Jones.
****SORRY! THIS ALBUM IS CURRENTLY UNAVAILABLE!****
Track Listing
Junk Man
Fire Dance
Jeeves & Wooster
Black Butterfly
Tân yn y Dŵr
Bat in the Bathroom
Adaptations of the Atom
The Swan LK243
Dandelion Rag
Hurdle Race
Cripad Mabon
Petite Fleur
The International Eisteddfod
Breaking Up
It's Not Funky, Is It? Remix
"A charming album, and well worth seeking out for its range and beauty" "Musician's Union" Magazine, Sep 2016
---
From the Crooked Tree
This Trio album with Sam Christie on drums and Andy "Wal" Coughlan on bass, combines Celtic harp music with jazz backing for an unforgettable, high energy fusion. "Superlative" "Musician" Magazine, 2007
Track Listing

Conger Eels
Cadair Idris
Finbar Finnegan's
Take 5 / Unsquare Dance
Laughing Wolf
Kitchen Devils
Earl of Hyndford
From the Crooked Tree
Postal Piper
Swimming in the Glasffrwd
Aussie Piper
Are Friends Electric?
Buy Now


---
Jumping Ahead
This debut album uses the Celtic harp as a strong melody instrument over extensive backing. Irish and Scottish tunes are mixed with recently composed melodies and influences from around the globe. It features Colman Connolly on flute, Tim Dowd on uilleann pipes, Geoff Pollitt on fiddle, Dave Henderson and Kevan Roberts on guitar, Xin Wu on xiao (Chinese bamboo flute), Anna NicRaith on Scots Gaelic vocals and Peter O'Brien on bodhran.
Track Listing

Valley Rhythm
After Otters
Blind Mary in America
Dancing Mathematicians
The Clan Neil Trip to China
Maggie's Pancakes
An Caisdeach Bán
Lonely
Jumping Ahead
The Day Dawn
Mo Theinntean Fhéin
The Gold Ring
Ragnarok
The Fire Hose Reel
Doimhneachd Anama
The HarpaSonic set
Buy Now


---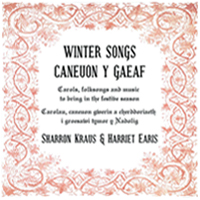 Sharron Kraus & Harriet Earis
A duo album of carols, winter songs and tunes recorded in the remote St. John's Church, Ysbyty Cynfyn in mid Wales. Folk singer Sharron Kraus performs unusual carols and winter tunes with backing from harp, Appalachian dulcimer and whistles.
"Mixing the lightness of the dulcimer with the deeper Celtic harp, mellow whistles and haunting vocals, their music recreates an ancient wintry soundscape punctuated with warm Christmas cheer"
Track Listing
Deck the Halls
Breuddwyd Dafydd Rhys / Hoffedd Tom Manaw
To Shorten Winter's Sadness
Y Feri Lwyd / Christmas Day in the Morning
Cloch Erfyl
The Sans Day Carol
Apples in Winter / We Wish You a Happy New Year
Dic o Gymru / Ty Coch Caerdydd
Down in yon Forest
Caniad San Silin
The Coventry Carol
Snow Chains / Mouth of the Tobique
The Cherry Tree Carol
Y Dydd / Cofio Llanedi
Ar Hyd y Nos
Buy Now


---
Dragons
A trio album with Welsh singer-songwriter and guitarist Ian Wyn Rowlands and fiddler Jasper Salmon. "These three talented individuals perform both original and traditional material, sensitively and in a flowing, graceful style". "Living Tradition" magazine
****SORRY! THIS ALBUM IS CURRENTLY UNAVAILABLE!****
Track Listing
01. Kites 02. Raggle Taggle Gypsies 03. Ffoadur 04. Dragons 05. Y Deryn Pur 06. The Rose of Euskadi 07. Deio i Dywyn 08. Grumbling Old Man/Lads of Laois 09. Myfanwy 10. While My Guitar Gently Weeps 11. Lisa Lan
---
Disography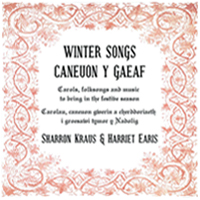 <!-//////////////////////////////////////////////////////////////////////////////////////////////////////////////////////////////////////////////////////////////////////////////////////////////////////////////////////////////////////////////////////////////////////////////////-->